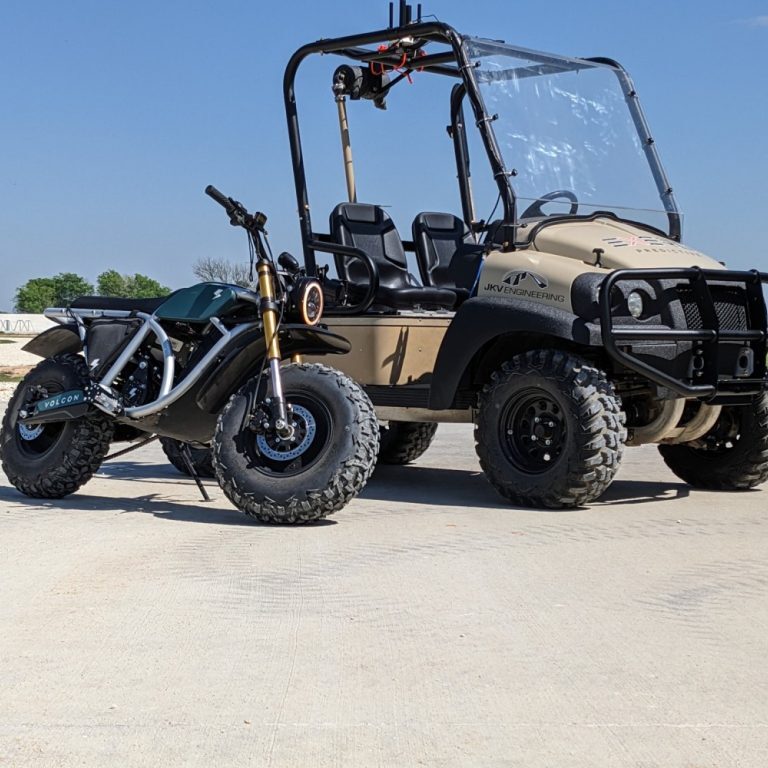 The Intersection of Technology and Military Modernization
How Collaboration Within Private Industry is Driving DoD Innovation
Reposted from Volcon I ePowersports, LinkedIn.
The United States Department of Defense (DoD) is no stranger to the need for innovation in order to stay ahead of its adversaries. As the nature of warfare evolves, the DoD has recognized the importance of integrating new technologies into its arsenal to outmatch United States adversaries and enemy combatants.
To accomplish this, the DoD has opened its doors to private tech and innovation firms outside of the traditional military industrial supply base, sending the message that the "DoD is Open for Business." This has created opportunities for collaboration between private industry and the DoD in the efforts of military modernization.
One example of this is the emerging collaboration forming on the Texas A&M-RELLIS campus in Bryan, Texas between Volcon | ePowersports (Volcon), Exergi Predictive (Exergi), the Texas A&M Engineering Experiment Station (TEES), George H.W. Bush Combat Development Complex (BCDC), and the Texas A&M Transportation Institute (TTI) as an example of the development of off-road electric vehicles (EVs) for both consumer and defense use. This article explores the specific relationships and synergies between these organizations, and how their collaboration drives innovation in military modernization efforts.
Volcon, the first all-electric, off-road powersports company based outside of Austin, Texas designs high-performance 2-wheel and 4-wheel vehicles. Exergi is a small team of vehicle engineering, data science, and software experts with best-in-class capabilities in energy management and edge-based AI capabilities. The two companies have signed a Memorandum of Understanding (MOU) that will see Volcon provide electric vehicles to Exergi for off-road data collection in an effort to develop off-road EV range prediction and set the stage for software app development for both defense and consumer use.
This collaboration represents a significant opportunity for military modernization efforts, as off-road EVs have the potential to provide a more efficient and effective mode of tactical and non-tactical transportation for service members. By leveraging Exergi's expertise in energy management and AI, Volcon can develop more advanced off-road EV technology that can better meet the needs of the DoD. "In their best endeavors, the DoD is still struggling to pull small business innovation from industry into echelon," stated Volcon's Vice President of Global Defense and Government Programs, Richard Tannery.
He further notes "complexities and inefficiencies in the contracting process cause both communication and cash flow issues for small businesses and startups; which are the real incubators of disruptive technology. The large prime defense contractors working with the DoD are very effective at integrating smaller firms' technology, and they speak the language and speed of the government.
However, the benefits of being a young, agile, and emerging player such as Volcon or Exergi, is that we can pivot quickly, and possess fluidity in decision-making and change management. These are value propositions that the traditional defense institutions are unable to offer. We are very proud to have been asked to participate in Exergi's development process and believe this is an example of a type of collaboration from which DoD policymakers can learn."
Exergi has also collaborated with BCDC to demonstrate its technology at its Innovation Proving Ground (IPG) located on the RELLIS campus. RELLIS is located in Bryan, Texas and is home to a comprehensive research and testing ecosystem. The complex consists of a number of high-tech research and testing facilities, including the Mobility Challenge Course and Off-Road Test Area, as well as the Ballistic, Aero-optics, and Materials Range and the Research Integration Center.
"The opportunity to collect data and demonstrate our energy management software in relevant environments at BCDC is tremendously valuable for a technology startup like ours," according to Exergi's Co-Founder and CEO, Will Northrop.
This collaboration with BCDC provides Exergi with access to state-of-the-art testing facilities and the opportunity to showcase its technology to defense agencies and contractors. By demonstrating its technology on the IPG, Exergi can show how its energy management and AI capabilities can be applied to military vehicles to enhance their performance and efficiency.
"I'm very excited about the opportunity to support several small, energetic, companies working in this technology area," noted the BCDC's IPG Director, John Diem. "We are already working with U.S. Army Futures Command (AFC) to conduct field trials of Volcon's and Exergi's capabilities as part of a six vendor assessment of future combat vehicle sustainment. The BCDC's test courses, advanced instrumentation and data support systems and Research Integration Center (RIC) are providing a unique test-fix-test environment. Even more exciting will be the collaboration between BCDC and TTI to provide support to the EV industry that can span from basic research and analysis in TTI's chambers and labs to robust experimentation and testing in relevant environments across the RELLIS campus. There's nothing like it in the world."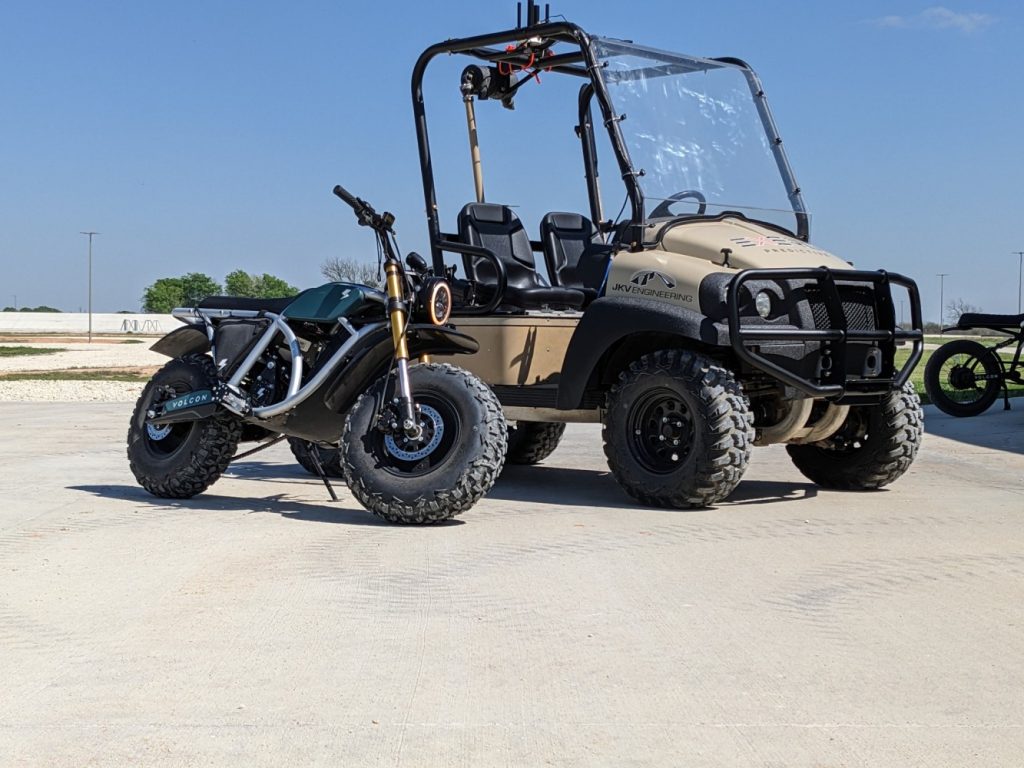 Volcon plans to work with the BCDC later this year by providing all-electric demo vehicles to the campus for other defense contractors to engage with for integration and demonstration of new technologies. Volcon will also plan its own vehicle testing events on site for evaluation of current and future vehicles. BCDC will help to facilitate introductions between Volcon and defense agencies and contractors to promote a collaborative environment focused on innovation and military modernization for the advancement of the warfighter.
Volcon also plans to collaborate later this year with TTI, a state agency and nationwide leader in transportation research and testing. The collaboration will establish a path to set the first off-road electric-vehicle drive cycle standard, a feat which embodies Volcon's rapid first-to-market strategy in the electric, powersports space.
Joe Zietsman, TTI's Deputy Director, said "As the adoption of electric vehicles (EVs) grows with a focus on the on-road sector, one area that is not to be overlooked is the off-road EV market. TTI has the expertise and capabilities to be a leading partner in the development of test procedures and standards to determine the performance and impact in this growing area." TTI and the BCDC, both located on RELLIS, lend access to both the automotive and defense sectors and function as compliments to the joint approach by Volcon. Volcon Chairman, Founder, and Chief Technology Officer Christian Okonskycommented, "At Volcon, we are excited to be working with Texas A&M, the Department of Defense, and the public sector to take our learnings and experiences in the electric vehicle space to the next level of innovation."
These collaborations provide a unique opportunity for defense agencies and contractors to engage with Volcon's off-road electric technology and to explore new ways to enhance military operations, while improving the performance of military vehicles. By leveraging the expertise of private industry and the state-of-the-art facilities provided by the BCDC, the DoD can accelerate its modernization efforts and stay ahead of its adversaries in the rapidly evolving landscape of modern warfare.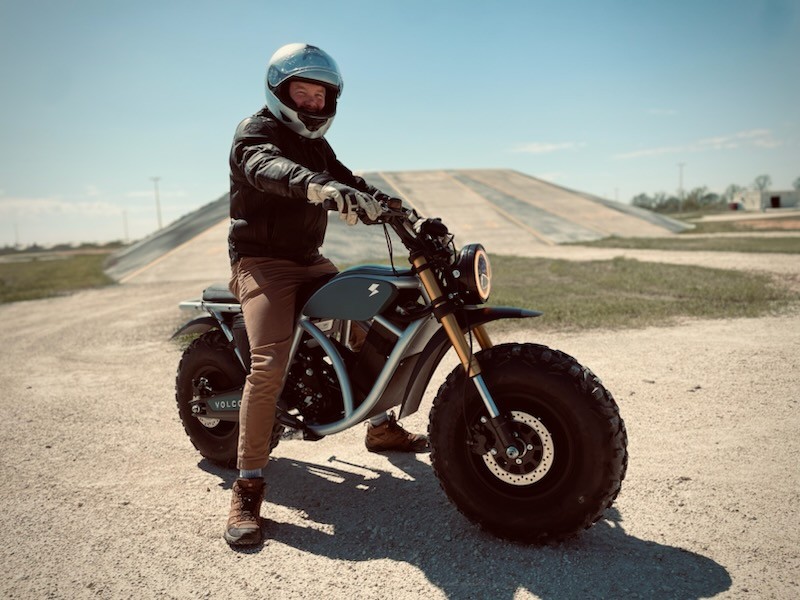 "All of these relationships share the common thread of the BCDC," stated Tannery. "Whether the conversations began, or ended with the topic of BCDC, the environment BCDC offers is paramount to progressing those conversations and the current state of technology for service members. BCDC provides a productive forum for connecting the innovator to the end-user, and everyone in between."
Motivated by the recent contract order by the US Army Corps of Engineers(USACE) Energy Research Development Center (ERDC) and the Construction Engineering Research Laboratory (CERL), for two Stags fresh off the production line later this year; Volcon seeks to be a creative collaborator, integrator, and innovative leader within the electric off-road space.
As collaborations like these continue to emerge, it is clear that the intersection of technology and military modernization is a driving force for innovation and progress in the defense industry, with an implied call to action that fluidity in doing business with innovators is key.